Train Ambulance ICU Facilities from Delhi, Patna, Kolkata, Mumbai and Other Cities of India with Advance ICU setup Equipment at Low Cost with World-Class Doctor Team
Usually, it is said; there is no medical facility in train in order to the serious patients' evacuation from one city to another city on being a long distance in India. But here, Sky Air Ambulance provides Train Emergency Medical Full Facilities with the gentle burden cost like ICU or CCU in connection with the serious patients where the same services are rendered like Air Ambulance Services; it is cheaper than Air Ambulance Services in all over India.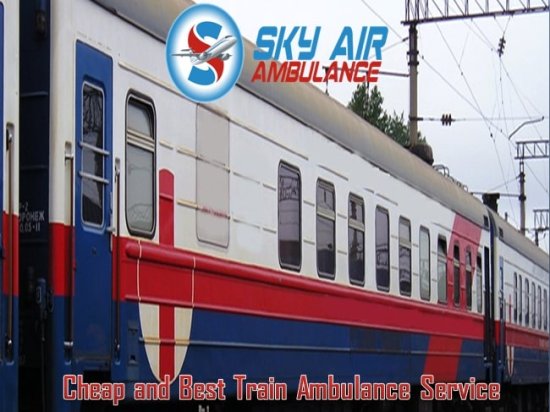 Air and Train Ambulance Services in Delhi mainly standing with its full-featured ICU or Semi-ICU emergency services providing to the needy in all over India. Commonly, It is the first easy and common medical transfer system where the guests can get their love ones shifted by the help of Road cum Train ICU Services Facilities; it is cheaper than Air Ambulance Service Cost and accessory for the patients those who have cardiac, asthma and some other critical issues and they cannot move through Air Ambulance Services. When anyone needs Train Medical Evacuation he can avail of this emergency service on scheduled time after the call booking; the mode of Sky Train Medical Evacuation System banks on both online and offline at very economical and underestimated cost. We provide Train/Rail ICU facilities from Delhi to another cities in India with medical team.
Some Economical Advantages of Sky Train Ambulance Services in Delhi:-
The Same ICU or CCU Emergency Service like Air Ambulance by Train Medical Evacuation
All types of the serious patients are transferred by Train Medical Facilities
Low Costing, Safe Evacuation and All treatment in Train Medical Evacuation
Available on Train Scheduled time to Shift the patients anytime from anyway
We Provide Medical Escorts Service in Rail Ambulance in all Over India