Sky Train Ambulance Services in Kolkata:Fully Professional and Low Cost:
Sky Train Ambulance Services in Kolkata is one of the low cost and fully professional Train Medical Crews Services where any specie of patients can naively be transferred from one city to another city under the well-equipped medical escorts and highly experienced medical team unit supervision. Low Cost Sky Train Ambulance Services from Kolkata to any other city is one of the greatest options among the needy because it does charges a little price with full transparency.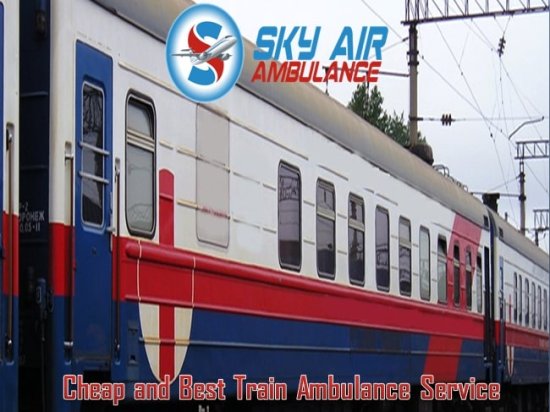 Kolkata Sky Train Ambulance Services Provide:-
Medical Treatment: All the treatments of the patient are treated during the transferring time.
Medical Team: MD Doctors, Paramedics, Nursing Staffs, Medical Crews, and Medical Assistants
Medical Equipments: Portable Ventilator, Suction Machine, Infusion Pump, Nebulizer Machine, Oxygen Cylinders, Cardiac Monitor, External Pacemakers, Defibrillator, and basic and advanced life reviving supports.
Medical Services: 24/7 Hours non-stop services in 365 days with the quick response and availability
Medical Experience: The Medical Team is advanced and expertise in their profession having a long time experience.
ACLS Vehicles and Other Privileges: Both side ACLS Vehicles with kind regards of the patients' dispatch providing them scoop stretchers, wheel chairs, and other facilities.