Sky Air Ambulance Services  from Delhi to Kolkata, Chennai, Mumbai, Bangalore and Other Cities at Lowest Cost
Sky Air Ambulance Services in Delhi, India even International welcomes to all the people those who have medical care, health care, best cure and important sanitary in connection with their love ones to transfer them by Air Ambulance Services both private and public medium under the best supervision of medical escorts and vigorous and expert medical team those who have a long time experience of patients' transferring experiences. This Sky Air Ambulance Service in Delhi has the most liable and responsible emergency service provider which has the most medical care those cure for their disable or bed.  It provides mainly cardiac, cancer, orthopaedics, nephrology and neuro surgery patients to get their better treatment from one city to another city by the best media of sources either Air Ambulance Services, Train Ambulance Services or Ground Ambulance Services on being the hi-tech and ICU specialists medical team with the entire ICU emergency equipments such as- ventilator, suction machine, infusion pump, nebulizer machine, oxygen cylinders, defibrillator, pacemakers and all the basic and advance life sustaining equipments.
Budget Friendly Air Ambulance Service from Delhi | 500+ Medical Evacuation
Sky Air Ambulance Services in Delhi, India availability all time with the world famous Medical Team and Escorts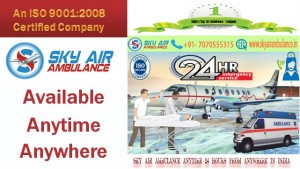 Most of the time, Sky Air Ambulance Services in Delhi NCR is with the people of Delhi for the sake of their medical assistance round the clock that means 24*7*365 Hours all the time to hear their problems and transferring their patients anytime as per possibility by Air Ambulance Services. That it is Sky Air Ambulance Services from Delhi to Kolkata, Chennai, Patna, Mumbai, Bangalore, Guwahati, Ranchi, Hyderabad and other cities is the prime option among the people those who select its casual ICU Emergency Services anytime; only the seekers who need the ICU services regarding their patients' transport, cargo or shifting just dial, call, contact with us, e-mail or as per guidelines they do the same work and they are provided this service within a short span of time. Sky Air Ambulance Services in Delhi has one after one the world class medical ICU specialists, MD doctors, Medical staffs, paramedical technicians, nurses and Medical Assistance those all are very dedicated and devoted for their respective responsibilities for the sake of their all pieces of work having the altogether medical escorts.
Low charges Air Ambulance Services from Delhi to Other Cities
Air Medical Evacuation with Full Medical Assistance in Delhi
24 Hours Air Flying Medical Care in Delhi
Specific Medical World Class Top Team in Delhi
Medical Evacuation from One City to another City from Delhi